As you may or may not know, the Nintendo Wii came out on November 19. This was the number one item on Alex's Christmas list. Like all new console games, demand has far outstripped supply.
On launch day, we visited our local Costco, but they did not have any in stock. I went back the next day and spoke to the manager. He said they'd be receiving 24 and I was number 19 on the list. So as long as I answered the phone when he called, I was assured of having a Wii to put under the tree. But when he called I didn't answer the phone. I was at the airport getting ready to board my flight to Las Vegas for Thanksgiving. He did reach Alex, but since we couldn't come in that day, we had to forfeit our spot on the list.
Alex read on some gaming sites that Target and Toys R Us would be getting some Wiis on December 3, so we headed out to check on them. Toys R Us had sold out earlier that morning, and Target had actually put the consoles out the previous day! So no Wii then either.
Then we heard that several places would be getting Wiis on December 17. Likely it would be the last shipment before Christmas. This time we were ready. Saturday morning I went to all three places to reconnoiter. The Toys R Us guy was clueless. The Target guy was very helpful, and confirmed that they'd have some for sale on Sunday. (They actually had 2 PS3s in stock, it's a shame I wasn't in the market for one of those. I did manage to pick up some extra controllers for the Wii. Those have been difficult to find as well, I took almost their whole stock.) The Best Buy guy was very helpful and mentioned there would probably be a line the following day, and that they'd post the number of available consoles when they closed. I had all the information I needed.
I set my alarm for 4am Sunday morning. A quick shower and I was on the road by 4:30. I went directly to Best Buy. (I figured they really knew what they were doing, so I was more assured of an orderly line.) When I arrived, there was already a line formed on the sidewalk. I spoke to the guy at the end of the line and he said the sign read 18 consoles. He was 16th in line. Apparently he got there at 2am, and the other 15 people had been there since about 11pm the night before. I settled in to wait. About 10 minutes after I arrived, number 18 showed up.
Then for the next two hours about 20 people came and went, usually off to Target or Toys R Us in hopes of a better spot in line. Some people stayed at the end of our line in hopes that someone else would leave. We got periodic news updates via cell phone from the other parking lots. Target had 10 consoles and 8 people in line. No they had 12 consoles, then 10 again. There was no line at Toys R Us. Those of us at the end of the line talked about waiting in line. The dorks at the front of the line talked about the things dorks talk about. I think I would have fit in pretty well up there. The creepy guy in the middle of the line didn't talk to anyone (I saw him yesterday morning at Target).
At 6:15 the Best Buy employee came out and started handing out these to the first 18 people in line: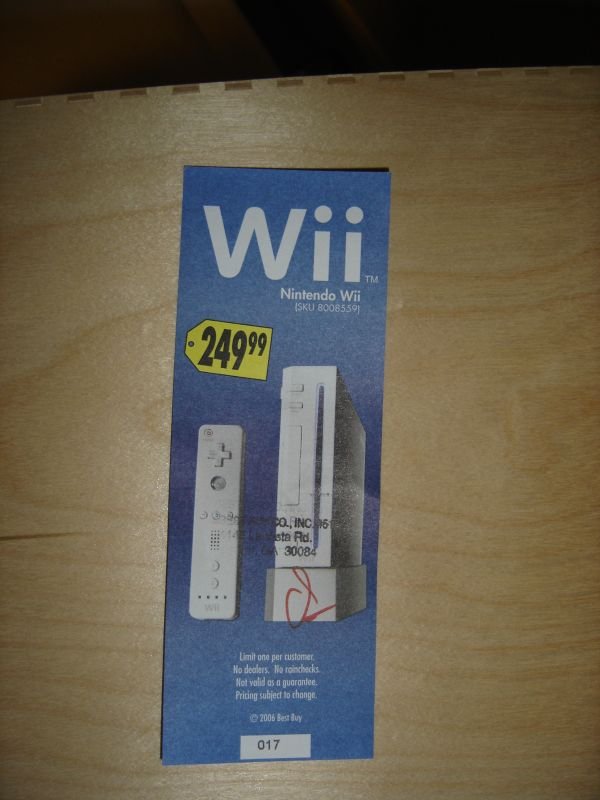 We were told that as long as we returned by 9am (they opened at 8am), our Wiis were guaranteed. I headed home to nap until 7:30.
Link woke briefly at 6:45, and when I came back to bed, Alex woke. I told him my story, and we tried to go back to sleep. I finally got to sleep at 7:15. When my alarm went off at 7:30, I got up (did you think I slept through it? No, there's a happy ending here.)
I got back to Best Buy at 7:58. There was a line of about 50 people on the sidewalk where I had waited earlier. There was a small knot of people on a curb in the parking lot. I recognized them as fellow ticket holders. I went to stand with them.
When they opened the doors, there was a mad rush by the people in line into the store. People were tearing over to the video game section, looking for the Wii. I walked in the exit door with the other ticket holders and some other people not waiting in line. I did a quick check of the game section to see if there were any other peripherals I needed, but they didn't have any at all. Then I headed to the checkout line, where they were keeping the Wiis behind the counter.
There were quite a few people in line. I started talking to one woman who was looking for a Wii. I showed her my ticket, and explained that they had sold out of them hours ago. She was upset that no one had told the people waiting in line that the Wiis were all gone. Then one of the other ticket holders said she tried to tell the people in line, but they didn't want to hear it, so she gave up. I guess the Best Buy people didn't say anything because they wanted to get people into the store to buy something.
When it was my turn to check out, I gave my ticket to the cashier, and they got my Wii from the back. It had a little yellow sticky that read "17." I paid and was on my very merry way. On the way to my car, a guy congratulated me on my Wii purchase.
So I think I did pretty well. I waited in line for less than 2 hours, and got one of the hottest toys of the year (and quite a few spouse points).